Family • Fun • Exhilarating • Adrenaline
Family
Fun
Exhilarating
Adrenaline
Experience the ups and downs, twists and turns of the Kielder ZipCoaster, Europe's 1st AvatarOne™, dare to fly on the King Swing, relish the confidence that comes from mastering the 15 metre High Ropes Course or learn to paddle and sail on the stunning Kielder Water.
Visit for the day and try one of our Activity Packages or book an Activity Holiday to experience a range of land and water based activities with family and friends.
ZipCoaster
After hearing about the ZipCoaster in Florida, we couldn't wait to bring Europe's 1st AvatarOne™ to Kielder. The patented technology mimics the ups, downs, twists and turns of a rollercoaster and the free-flying sensation of a zip wire to give riders the ultimate experience.
Using an adapted roller coaster rail, the custom-built 'Kielder ZipCoaster' sees thrill-seekers harnessed into a seated position as they glide amongst the trees, dipping and twisting at speeds of up to 20mph.
For those who like to know the technical stuff;
The ride is 197.6mtr long with 8 Vertical Elements and 3 Horizontal Elements, including a 270-degree turn and a 3m free-fall drop. There are 14 poles ranging from 9m to 15m in height. The start tower is 10m high and the ride drops approximately 13m from start to finish. There is 3.5km of steel cable, 3000 steel cable clamps and over 30 tonnes of concrete – phew!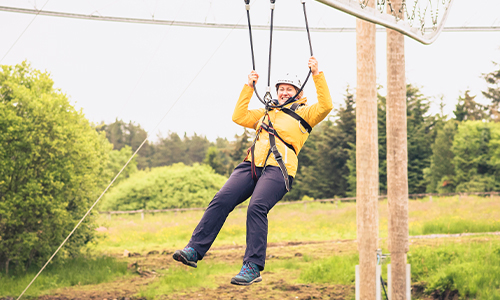 King Swing
The 10 metres high, 100kph adrenaline-fuelled King Swing. Once you're snug in your harness we'll hoist you as high as you like, then you pull the release cord and start screaming!
High Ropes Course
Make your way around the 7 elements of the High Ropes course. Do the Elvis walk, scramble over the cargo net, take the leap of faith and jump off at the end – but don't worry you'll descend safely to terra firma.
Target Sports
Test your aiming skills on our archery, Laser Clay Shooting or Axe Throwing ranges.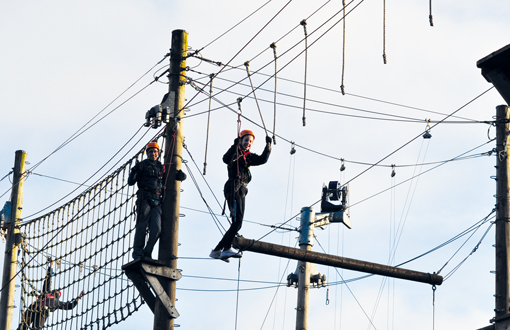 Canoeing
Learn the basics of canoeing in our Canadian canoes. Paddle and get close to nature in the sheltered and secluded bays of Kielder Water.
Sailing
Get to grips with sailing in the stable and easy to handle Windrider Trimaran, the most fun you'll have on the water.