Calvert Kielder is located in the stunning Kielder Water & Forest Park, home to the largest man-made lake in Northern Europe, the largest working forest in the UK and the largest area of protected dark skies in Europe. In daylight look out for roe deer, moles, foxes, ospreys and other birds of prey, and at night marvel at the stars and planets in the inky black sky.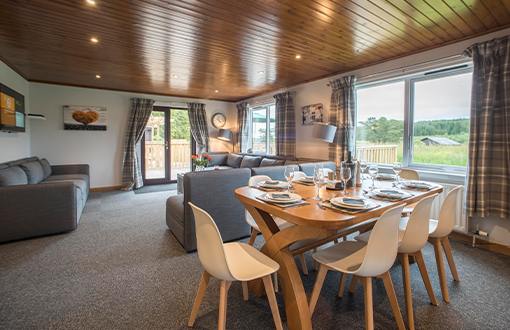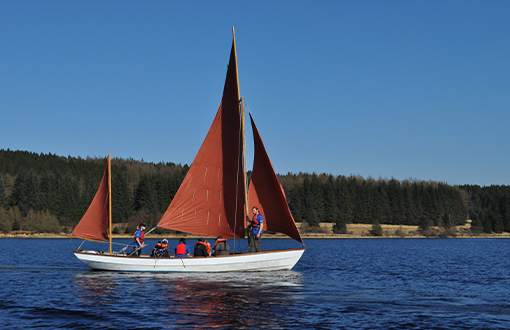 We offer challenging, exciting and fun activities and a range of accommodation types to suit everyone, in an awe-inspiring environment. Whether you are an adrenaline junkie and want to climb, swing and zip, or relish the tranquillity of a buggy ride through Kielder Forest and sailing on the beautiful Kielder water, we have just what you are looking for.
We are delighted to welcome families, groups, organisations and individuals for the day or for a longer stay in ensuite centre bedrooms or our choice of self-catering chalets. Chefs will cater for your dietary needs and enjoy your favourite tipple at the bar before dinner.
But that's not all; we have a special goal – to promote integration and inclusivity to enrich the lives of all our guests and visitors. With the encouragement of our dedicated instructors, and whatever your ability, taking part in our challenging outdoor activities, will help to improve your self-confidence and self-belief.
At Calvert Kielder we are:
Flexible we adapt and innovate to meet the needs of our guests in a safe and caring environment
Ambitious we stretch ourselves and our guests to achieve personal goals
Inspiring we encourage and promote a positive response to life's challenges
Sensitive we understand, empathise and respect others
Imaginative we see beyond the obvious to foster integration and inclusion
We look forward to meeting you.
The Calvert Trust came in to existence as a charity on 12th March 1976; this is the date that Lake District Calvert Trust was first registered as a charity. The Calvert Trust is the inspiration of John Fryer-Spedding, whose vision was to enable people with disabilities to benefit from outdoor activities in the countryside.
Despite Harold McMillan stating that the National Parks are "for all people for all time" in 1951 when the first Park opened, John Fryer-Spedding realised this was not quite true, and that a lack of accessible facilities restricted people with disabilities from truly enjoying our beautiful countryside and benefiting from outdoor activity.
The First Centre…
With this in mind, John Fryer-Spedding enlisted the help of Elinor, Viscountess Rochdale. Together they looked for people with the same vision and it wasn't long before a small group of people had been found and the decision to form a Trust had been made.
The Fryer-Spedding family donated two farmsteads, Old Windebrowe and Little Crosthwaite, to the Trust and, in 1978, the Little Crosthwaite Adventure Centre was formally opened.
Back then the centre had just one warden, a secretary, one instructor, two horses and two dinghies. But soon demand grew and the Lake District Calvert Trust was born. Today the centre employs 35 permanent staff and has many facilities – welcoming over 3,000 people every year, from groups to families, to individuals.
A Second Centre…
Following the huge success of the Keswick centre, the founders realised that a second centre was required. They also recognised that families would particularly benefit from access to self-catering accommodation.
The search for an appropriate site was on. Kielder, with its magnificent man-made reservoir, became an obvious option and Calvert Kielder became a reality. After much fundraising, this second centre was opened by HRH Princess Alexandra in 1984.
Today, Calvert Kielder welcomes over 5,000 visitors every year. As well as the centre and all its activities, the site offers 10 wonderful fully accessible self-catering log chalets, the fabulous 5* Straker Chalet and the special Sky Den, created by George Clark's Amazing Spaces Channel 4 TV programme. The Bradbury, a luxury chalet sleeping 4 people, opened in the of summer 2015 and the latest addition, The McArdle, opened in early 2016.
Calvert Kielder welcomes families, groups and individuals on a residential and day visit basis and uniquely offers 24 hour respite care for adults travelling alone.
And so to Exmoor…
With two centres in the North of England, there was still scope for development, particularly as people from the South of England were reluctant to travel such a large distance, and so a challenge was set to find an ideal location in the South.
And where better than the Exmoor National Park with wonderful countryside, fantastic beaches and good access to the road network?
When a farm right next to Wistlandpound Reservoir came up for sale, fast work was needed. With an anonymous donor and many other generous gifts, the purchase went ahead and Calvert Trust Exmoor became a reality, with what is now the main centre building opening in 1996.
Today Exmoor welcomes over 4,000 residential guests and 5,000 day visitors a year, has its own on-site riding school, and an indoor climbing wall, and caters for groups, families and individuals.
A Council…
Each centre still retains much of its independence, but the three are formally united under the Council of the Calvert Trust.
The Future…
The Calvert Trust has been built upon the spirit of its visitors. It has also been blessed by the dedication of its staff and many voluntary supporters. It is indebted to the grant-making trusts, companies and individuals who have shown it great generosity.
We can say to all these people and bodies that their faith, commitment and energy has been invested well and we will continue to concentrate on challenging disability through outdoor adventure and helping our visitors find out "it's what you can do that counts".